Artist
nao morigo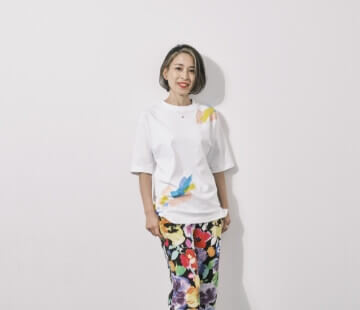 When I traveled alone as a student, I remembered, "There are people on this planet that you have a connection with, no matter how far you are, and people you never meet no matter how close you are."
She was touched by an accidental miracle,
She decided the trip and the destination, She walked there herself.
A chance is an unconsciously intended result.
Isn't that inevitable? I came to think she started working on the themes of "coincidence is inevitable" and "unconscious and conscious".
Around 2016, she began to pursue time, and currently produces works with the theme of "time, unconsciousness, and consciousness.
career
Biography
Born and lives in Kobe



1999



University of Michigan, exchange student (printmaking, ceramics, metal carving)



2001



Kyoto Seika University, Faculty of Art, Department of Plastic Arts, B.F.A. in Western painting



2018



2018 Jury member of public exhibition jam organized by All Japan Art Materials Council (2014~2018)



2020~21



Juror and curator, International Art Festival, Hoegungan Museum of Art, Korea


Major Awards
[Korea] Haegeumgang Theme Museum, Yookyung Museum
2021 Achievement Award, Certificate of Appreciation, Certificate of Appointment // 2020 Certificate of Appreciation // 2019 Special Merit Award // 2018 Special Award
Kobe Art Marche] Artist meets Gallery in KAM 2017 Selected
[NY Ronin Globus Artist-in-Residence Program] 2017 Second Place // 2016 Honorable Mention
Nara Katsuragi Art FAIR] 2016, Excellent Prize // 2015, Third Place
Sogen Calligraphy Exhibition] 2007 Nika Prize // 2008 Nika Prize // 2009 Nika Prize // 2010 Honorable Mention
Michigan Ann Arbor Art Center, 2000, Selected (print × ceramics)
Main business
<painting> Creation of stage set for Iwaki Ballet Company's "TOSCA" // Collaboration T-shirt between Chinese fashion brand OTR and Musée d'Orsay/Louvre, France // Hotel & Residence Roppongi wine etiquettes, etc.
<Live painting, etc> Hanshin Umeda Main Store // JR Kyoto Isetan // HEP FIVE Umeda, Osaka
<Illustration> Molson Coors Japan K.K. BLUE MOON BEER // Porta Kyoto // Whity Umeda // Kobe Hankyu
<CD jacket> Amuse READ ALOUD // MAKO in Brazil
Works