Artist
mayu kunihisa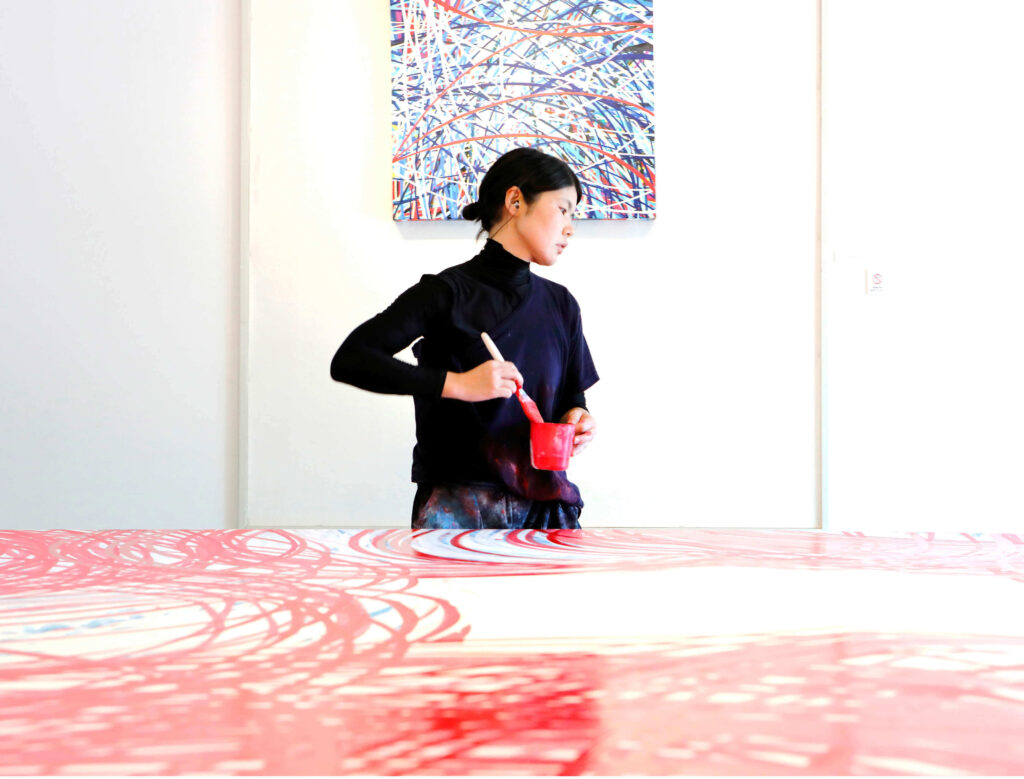 artist
Born in Osaka in 1983.
In recent years, she has been creating artworks under the name of the "wit-wit" series, in which she paints semicircular patterns using the centrifugal force from her arm generated by pivoting her body. She received the Special Prize under the 22nd Taro Okamoto Award for Contemporary Art in 2019, and the Grand Prize under the Young Creators Award 2020. Recent solo exhibitions include "BEAT PER MINUTE" in TEZUKAYAMA GALLERY in 2018, and RAW UBSTRATUM in Kobe Kitano Museum in 2020. Joint exhibitions include "Adventure of f—Charm of Two-Dimensional Art by Seven Artists" in A-Lab in 2020, and "Rokko Meets Art Walk 2019" in Rokko Music Box Museum.
Biographical Notes
Biographical Notes



1983



Born in Osaka



2003



Foundation Diploma in Art and Design at Central Saint Martins, University of the Arts London.



2015



Doctoral Degree in Arts and Design, Graduate School of Arts and Design, Kobe Design University.


Major solo exhibitions



2021



"AUTOLYSIS" MEDEL GALLERY SHU (Tokyo)



2020



"RAW SUBSTRATUM" Kitano Museum of Art, Kobe (Hyogo)



2018



"BEAT PER MINUTE" TEZUKAYAMA GALLERY (Osaka)



2018



"IF ANYWHERE" Sojiro -Contemporary Art Gallery- (Hyogo)



2017



"Hello! KUNIHISA" KOBE STUDIO Y3 (Hyogo)


Major Group Exhibitions



2020



Adventure of f—Charm of Two-Dimensional Art by Seven Artists (A-Lab, Hyogo Prefecture)



2019



Rokko Meets Art Walk 2019 (Rokko Music Box Museum, Hyogo Prefecture)



2019



"La nascita di PAM" MACRO ASLO (Rome)


Major Art Fairs



2019



"ART OSAKA 2019" Hotel Granvia Osaka (Osaka)



2018



"KOBE ART MARCHE 2018" KOBE MERIKEN PARK ORIENTAL HOTEL (Hyogo)


Major Awards



2020



Grand Prize, Young Creators Award 2020



2020



Benny Au Awards under the Asian Creative Tournament, "ubisum by ubies"



2018



Special Prize, 22nd Taro Okamoto Award for Contemporary Art



2017



Judge's Award (Ryoichi Matsuo) and Reviewers' Awards (Mugi Nakajima and Yasuhito Mimura), UNKNOWN ASIA ART EXCHANGE OSAKA 2017


Public Collections
Museo dell'altro e dall'altrove di Metropoliz
Higashi-Osaka City Library
Publications



2016



Kami Te Sui Hon (Book of paper, hand, and water) 2. A collection of selected artworks by students of the Department of Visual Design, Kobe Design University
ISBN: 978-4-86528-254-2



2020



Visual Design 1; Sayusha
ISBN: 978-4-86528-254-2


Works